Link to Survival Pulse
Add the Survival Pulse button to your website. It's easy! Just follow these 3 steps:
1. Pick the button size and design that you want.
2. Copy the code for the button.
3. Paste the code onto your website where you want the image to be displayed. Larger images will automatically shrink to fit your sidebar!
That's it! There is no need to save or upload images to your website. Just copy and paste the code. Thanks for supporting Survival Pulse

Top 50 Survival Blogs Page
250px wide: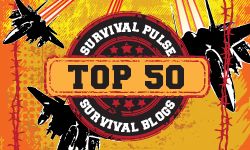 Survival Pulse Home Page
200px Wide:

250px Wide:
300px Wide:
350px Wide: