By Stealth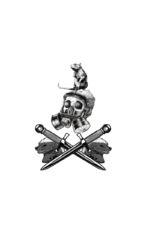 Site Tagline:
The Night Belongs To Us
Site Description:
In this world of technological convenience, humanity has far more to lose when shit hits the fan (S.H.T.F). One cannot imagine the great difficulty when a shortage of water arises, nor can you comprehend being totally deprived of electricity for long periods of time, unless you have experienced this yourselves. What will you do when you need to survive during an apocalyptic event or even during a time where an invading enemy threatens your life and that of your loved ones? There are many theorists who presume that this or that will be the best method in cases of emergency, however these people are basing their knowledge on exactly that: Theory and not Fact. On this blog: By Stealth, we will instruct you, step for step do's and don't's of practical survival tactics. These methods are tried and tested by us personally, however should only be applied under extreme situations or in a controlled environment.
Some of the instructions here will be of the nature of Military, Bushcraft, Weaponry etc so if you are a minor, only practice this under strict adult supervision. Make no mistake, reader, these are indeed deadly tactics that WILL KILL YOUR ENEMY in any event.
Be Warned: We will not be held responsible for any injury or death inflicted when these methods are applied to ANY person, people or animals, use this knowledge at your own discretion. In other words: If you do dumb shit (which contravenes various laws) and get caught…don't point your finger at us.
Although we are writing this as South Africans (Afrikaners) living in South Africa, throughout this blog we will try to keep the information universal – so that you can make use of it irrelevant of where you live in the world. That being said, the content will be applicable to natural survival and urban survival – although it will be directed at urban survival mostly.
By Stealth can also be found on Facebook and Youtube.