Survival Harvesting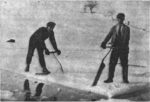 Site Name:
Survival Harvesting
Site Tagline:
Harvesting what you need to survive, in good times and bad.
Site Description:
This site is dedicated to what I call "Survival Harvesting." That is, harvesting methods that you can use in disaster or emergency situations, or during good times, to maximize your self-sufficiency and independence. If you have achieved a larger degree of self-sufficiency in the areas of your specific needs, then you are far more resilient, no matter what happens.
The survival techniques I examine on "Survival Harvesting" come from historic survival skills, indigenous peoples survival skills, the techniques of bushcraft, both those developed in the New World and traditional knowledge used by poachers, rangers and games keepers in the Old World, low technology techniques used in developing nations, and current technology survival and homesteading methods.
Essentially, the only criteria used to differentiate a particular method of getting something done is "will it work."